Host country : FRANCE
Host District : District 1710
Rotary Clubs : RC Bourg Doyen, RC Bourg Jacobins, RC Bourg Revermont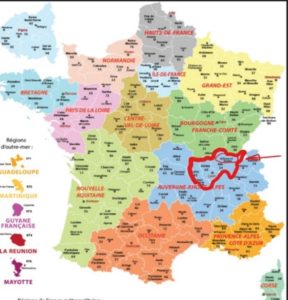 REGISTRATIONS update Jan. 28
CAMP is FULLY BOOKED
Period : June 30 to July 12 2019
Camp theme : Discover the Rhône-Alpes Auvergne area in France, enjoy nature, have fun, initiation to French Gastronomy (detailed program will be sent later)
Age : from >15 up to <18 (15 to 17)
Participants : 6 boys and 6 girls ( limited to one participant per country)
Arrival : June 30th 2019 at Lyon Saint-Exupéry airport (LYS)
Departure : July 12 2019 from Lyon Saint-Exupéry airport (LYS)
Language : English and French
Participation fee : 300 Euros (to be transferred to the bank account that will be given together with confirmation)
Specifics : Participants must be at ease in water, able to swim, (bring your swimsuits). Meals : only standard European and vegetarian meals (no vegan, no glutenfree, no lactosefree).
Hosting : Accomodation in sport center dormitories. To get an understanding of French family living and culture, the participants will also be staying with host families.
Application deadline : March 31 2019. If the camp is full, it will be specified on this webpage. If the application is accepted, contact will be set by the camp organizer
Coordination :
No direct application from a participant is possible.
RYE Applications must be endorsed and signed by sponsoring Rotary club and District Youth Exchange Chairman.
To be sent (from a RYE district or multidistrict only) to:
france_camp01@crj-multidistrict.org
Insurance : All participants have to be insured prior as per RI insurance guidelines. Online process link will be provided by camp organizers
Program (project)
Roche de Solutré

Hameau Duboeuf & Wine theme park

Minigolf

Dynamic movies

Cooking with an authentic « Chef »

The church in Brou

Bourg en Bresse

Lyon

Birds park

A night in a tree hut

Tree climbing

Swimming

Canoe

Plaine Tonique leisure center

Planon lifestyle Museum

3 nights in teepees

Biking

Wakeboard

Saint-André Bouchoux castle