Host country : FRANCE
Host district : District 1670
Rotary Club : RC de Templeuve en Pévèle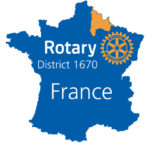 Period : June 29 to July 15 2019
Camp theme : Discover Northern France area in France, enjoy nature, have fun, initiation to French Gastronomy (detailed program will be sent later), Bastille day in Paris. [Pdf file]
Age : from 18 to 20
Participants : 4 boys and 4 girls ( limited to one participant per country and a maximum of 4 participants by continent Europe, Asia, America)
Arrival : June 29th 2019 at Paris Charles de Gaulle Airport
Departure : July 15 2019 from Paris Charles de Gaulle Airport
Specific: student coming from other continents will have possibility to spend one extra week (subject to agreement)
Language : English and French
Participation fee : 320 Euros (to be transferred to the bank account that will be given together with confirmation)
Specifics : Participants must be interested by food and cooking
Meals : only standard European and vegetarian meals (no vegan, no glutenfree, no lactosefree).
Hosting : Accommodation in Hosting French Family and in Hotel (Paris)
Application deadline : May 31 2019. If the camp is full, it will be specified on this webpage. If the application is accepted, contact will be set by the camp organizer
Coordination : No direct application from a participant is possible.
RYE Applications must be endorsed and signed by sponsoring Rotary club and District Youth Exchange Chairman.
To be sent (from a RYE district or multidistrict only) to:
france_camp02@crj-multidistrict.org
Insurance : All participants have to be insured prior as per RI insurance guidelines. Online process link will be provided by camp organizers
Program (project)
Cooking with a Chef
Pastries degustation
Day to Brugges in Belgium
Visit and degustation to Champagne region
Visit to food market
Gastronomy restaurant
Visit to cheese producer
Visit to fish market
3 Days in Paris (included Bastille day)