Host country: FRANCE
Host district: District 1700
Rotary Club : Perpignan Loge de mer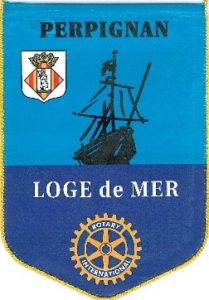 Period: June 22nd to July 1st
Camp theme: Discover the Catalan and Spanish coast through the initiation to
sailing on a modern catamaran (Notitech 470)
Age: from 18 to 25
Participants: 3 girls and 3 boys, limited to one participant by country
16/04/19 : THERE ARE STILL VACANCIES LEFT for BOYS
Arrival: June 22nd at Perpignan-Rivesaltes airport
Departure: July 1st from Perpignan-Rivesaltes airport
Language: English and French
Participation fee: 400 Euros (to be transferred to the bank account that will be given together with confirmation)
Specific: Sailing will be teach by a professional skipper assisted by a Rotarian of the Rotary club Perpignan Loge de mer. They will be housed in 2 independent rooms at the front of the catamaran.
Hosting: Participants will be accommodated on the catamaran from Saturday June 22nd to Friday June 26th (4 double bedrooms with bathroom and toilet in each room) and in a mobile home in the Camping Taxo les Pins 4 * in Argeles sur Mer from Friday June 26th to Monday July 1st.
Meals: standard European only, no vegetarian, no vegan, no gluten free, no lactoserum free
Application deadline: April 30 2019 If the camp is full, it will be specified on this webpage. If the application is accepted, contact will be set by the camp organizer.
Coordination : No direct application from a participant is possible.
RYE Applications must be endorsed and signed by sponsoring Rotary club and District Youth Exchange Chairman.
To be sent (from a RYE district or multidistrict only) to:
france_camp03@crj-multidistrict.org
Insurance : All participants have to be insured prior as per RI insurance guidelines. Online process link will be provided by camp organizers
Program
Saturday, June 22: welcome of participants and installation on the catamaran in Port Leucate. Dinner in Port Leucate
Sunday 23: navigation to Port La Nouvelle, evening reception and dinner at the Rotary Club of Port La Nouvelle
Monday 24: navigation to the Costa Brava and mooring in a creek (depending on the weather). Meals taken on the catamaran, possibility to discover the seabed in apnea.
Tuesday 25: navigation to Rosas in Spain, stopover in Rosas, typical meal « Tapas » together in a restaurant in Rosas
Wednesday 26: navigation to Collioure and mooring in the bay of Collioure, exploration of the city and meal on the catamaran, tasting of local products.
Thursday 27 : navigation to Saint Cyprien, stopover in Cyprien and grill organized in the garden of the harbor office of Saint Cyprien.
Friday 28: Navigation to Port Leucate and installation in the Mobil Home in Argeles, Camping Taxo Les pins.
Saturday 29: Day of relaxation in the Camping Taxo Les pins, access to all Camping animations and meals taken on the spot.
Sunday 30: Reception by the Rotary Club Perpignan Loge de mer, closing dinner of the Camp.
Monday, July 1st: Departure of participants.